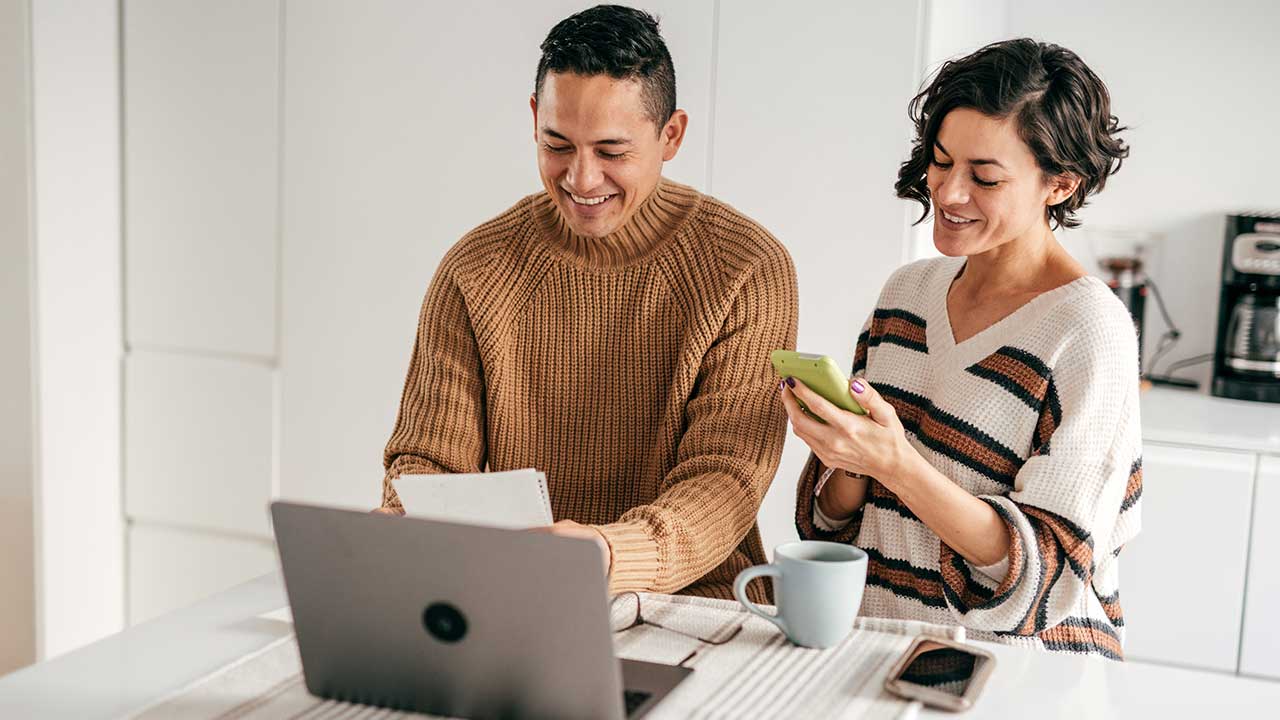 You've seen the commercials, you've clicked on the Facebook ads, you've done a Google search here and there. You've even talked to your second cousin, Jim, who claims to be an 'expert', and yet, still, you don't know how to start investing. And that's okay.

Grow your savings potential by considering these important factors.
With interest rates on the rise, now might be the perfect time to begin your investing journey, even if getting started seems overwhelming. To help you out, we've put together a list of things you should consider when thinking about investing with Access Credit Union.
Consider your strategy and style
It is important to look at what your goals are for your investments, how much money you have to invest, what your timeframe is, your risk profile and of course, your personality. There is no one-size-fits-all investing style. That's why we recommend credit union members speak to a professional. Wealth Advisors can help determine the style and strategy that best suits you.
Consider a term deposit
If you're risk averse or have short-term goals, a term deposit or Guaranteed Investment Certificate (GIC) is a safe, secure, and guaranteed way of investing your money for a set length of time.
Many term deposit investors use a laddered approach, which means they divide their investment into several term lengths with different maturity dates. By using this strategy, you will enjoy the benefits of flexibility and reduce the impact of interest rate fluctuations.
Terms are available from one to five years and all deposits are guaranteed 100% by the Deposit Guarantee Corporation of Manitoba.
Consider rising interest rates
When interest rates rise, it's the perfect time to take advantage of a term deposit (or GIC). Once you commit to a term with a minimum deposit of $1000, your funds are locked in and will earn interest at that guaranteed rate.
Concerned about market volatility? Now could be a good time to enter into the equity markets if you're an investor with long-term goals and are able to withstand some unpredictability. If you've already invested into the equity markets and are feeling some uncertainty, now is not the time to abandon your long-term plan! Instead, consider contacting a Wealth Advisor for advice so we can discuss your situation at a personal level.
Consider your investment options
Everyone has a different personality. While some people like to be at the wheel of their investments, researching and making the decisions can be very daunting for others. Speaking to a Wealth Advisor will help you understand your different options of either doing it yourself or having the help of a professional.
As a credit union, we've partnered with Qtrade®, the best self-directed online brokerage as ranked by Surviscor, to provide you with online investing from one of Canada's best online brokers.
In short, whether you work directly with a wealth manager or take the DIY-route, your choices for investing, and how you invest, are completely up to you.
Consider tailored plans, products, and investment portfolios
We help out members with non-registered and registered investment accounts (RRSPs, RRIFs, locked-in funds, RESPs, TFSAs, RDSPs,) for personal and non-personal entities. We offer access to stocks, bonds, ETFs, mutual funds, GICs, and insurance products. We help our clients with planning for big life events, advising in many areas: insurance, retirement planning, savings for children, tax minimization strategies, estate planning, budget building / analysis, the list goes on!
Consider investing early
The sooner you start to save, the easier it is. Think of saving for retirement, for example. If you are 25, you're spreading saving for retirement out over 40 years, vs. if you are starting to save for retirement at 50. The sooner you start, the better off your future self will be. Remember: it's better late than never!
Consider Access Credit Union
If you're thinking about investing as a credit union member, there is no better place to start than your local Access branch! We strive to build strong relationships with our members, so we always have your best financial interests at heart.
---
Online brokerage services are offered through Qtrade Direct Investing, a division of Credential Qtrade Securities Inc. Qtrade, Qtrade Direct Investing and Write your own future are trade names and/or trademarks of Aviso Wealth.